Cute and compact; thoughtfully designed
Bubbly retro beauty sure to get you noticed
Ease and efficiency while driving
A small, frugal, and surprisingly strong engine
71MPG means it gets you further for less
Fiat 500 Latest Offers
Fiat 500
The Fiat 500 has set the standard as a true icon of compact Italian style, made specifically to manoeuvre through buzzing, European cities. Manageable and distinct among its peers: The 500 brings contemporary chic and present-day practicality to the table, and its updated design details give it a sweet, cheeky look. Super-stylish rear light clusters make the Fiat 500 bubbly and trendy, while a re-designed dashboard and steering wheel mellow it out with everyday appeal. Innovative technology enables smartphone connectivity, ensuring you're always updated on the go. The Fiat 500 makes comfort and convenience practical, while a range of safety features ensure plentiful protection at all times. All engines deliver responsive performance without compromising economy. With an entire line-up and countless personalisation options, you are bound to find the Fiat 500 that is unmistakably you.
500 Features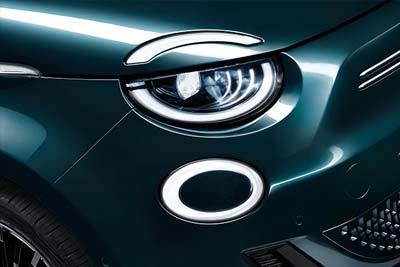 Eye Catching Creativity
A style icon for over 50 years, Fiat continues to set the bar for compacts, everywhere. The Fiat 500 takes its cues from the latest fashion hallmarks, while providing that bold flavour you couldn't do without."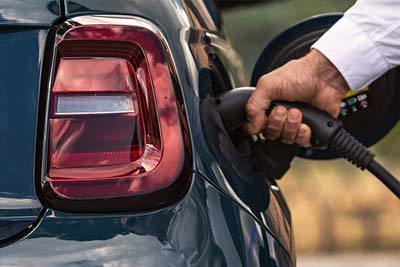 Sensuous Style
The 500's new seats were designed with a fashion-forward, ergonomic mindset, pulling cloths straight from runways. The new seats are modified with rear-passengers in mind, making more room for your passengers' legs.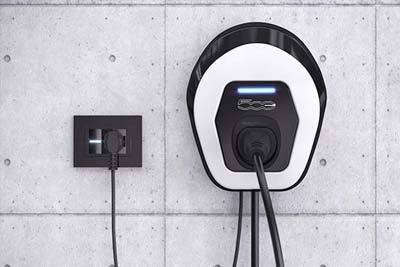 Complete Comfort
Improved USB/Aug-in ports and a roomy glove compartment increase functionality; smooth, rounded controls with chrome highlights add a flash of motion and colour ensure style without sacrificing either form or function.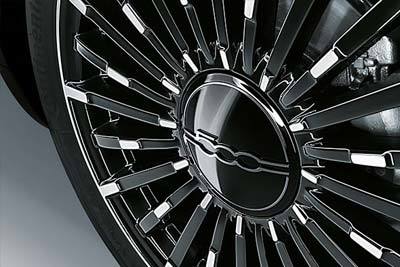 Absolute Simplicity
Thanks to an innovative 7-inch TFT digital display, speed, revs, temperature, and the gearshift indicator are easier to read. This allows you to quickly and efficiently gauge and manage, while delivering more safety.
Interior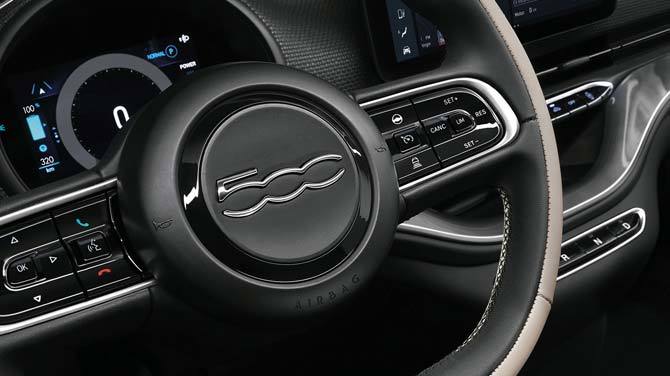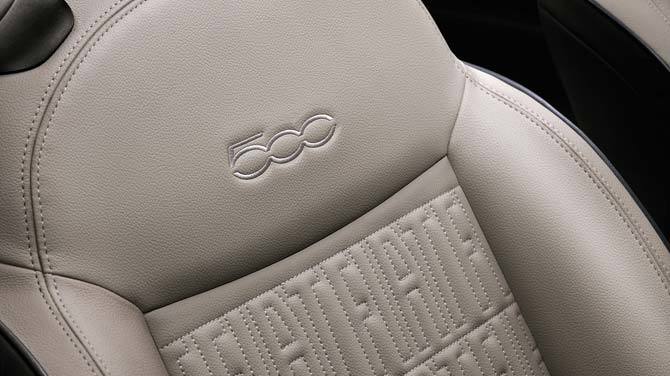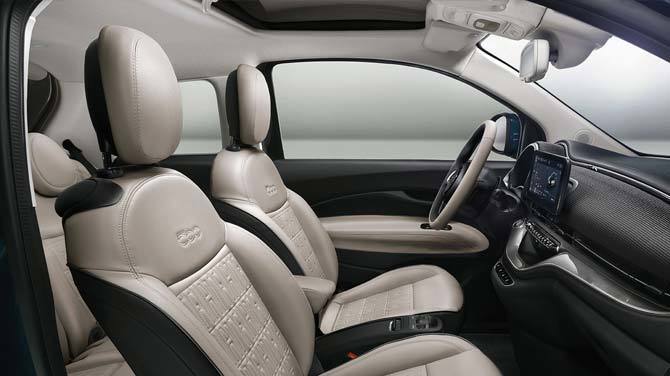 More Features
Infotainment
Via a 5-inch touchscreen, Fiat's Uconnect gives you more freedom to manage your smartphone and other multimedia devices, as well as more efficiency with managing your radio and your navigation.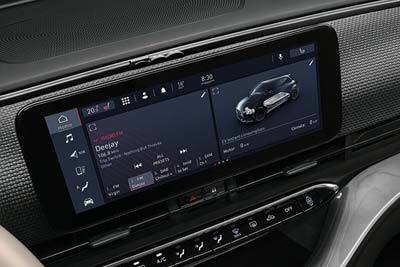 Top of the range Technology
Eco Is Your Personal Assistant, Helping You Save Fuel, And Checking CO2 Emissions Minute-by-minute. My Reminds You Where You Parked And Gives You Real-time Updates About The Health Of Your 500.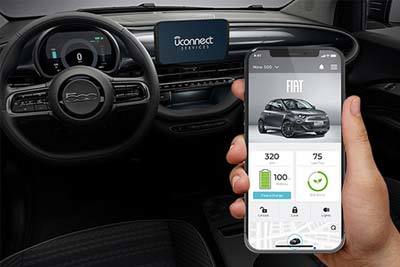 Absolute Safety
In the instance of an emergency, ABS with EBD will step in to assist, ensuring more stability and control, while a Hazard Device system immediately turns on the emergency lights to warn other road users.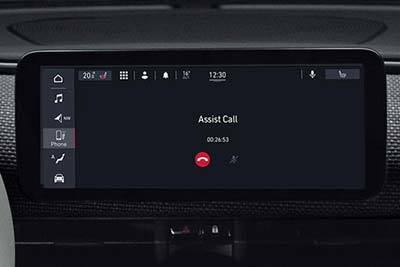 Amazing Performance
Fiat's 1.3 MultiJet 95HP can achieve up to 83.1MPG combined, and rock-bottom CO2 emissions of just 89 g/km. That's tons of wiggle room to get where you're going without sacrificing fun for efficiency.
500 Colours
Passadoble Red
Black & Red
Bossa Nova White
Countrypolitan Yellow
Volare Blue
Tech House Grey
Black & Yellow
Groove Metal Grey
Avantgarde Bordeaux
Epic Blue
Electroclash Grey
Crossover Black
Urban White
Smooth Mint
Glam Coral
For the trim levels, colours and more detailed info, download or order the 500 brochure
Get a Brochure
Why not take a test drive in the 500? It is the best way to know if the car is for you.
Book a Test Drive
If you need to know more info about the Fiat 500 - Just ask, we are here to help.
Ask a Question
View all of our 500 offers by clicking the link below.
Latest Offers

The diminutive 500 boasts snazzy looks that help it stand out in a sea of small-car sameness
CarandDriver

You're putting your money somewhere very sensible
TopGear

The contemporary Fiat 500 has cute retro styling along with a surprisingly roomy cabin for its small footprint
Edmunds
New Fiat 500
Call us Today
01239 612025
Contact us