The bubbly personality you'd expect from a charming Fiat 500
Customisable exterior and interior - make your personality shine
Ergonomic and stylish cabin for complete comfort
Practical and spacious interior - ideal for trips with passengers
Your choice of three frugal engines
A five-star safety system
Fiat 500L Latest Offers
Fiat 500l
The Fiat 500L successfully teams the spacious, interior comfort you expect from an MPV with all the delicious urban practicality of a compact city car. It retains it's cheeky, chic Italian design. With ribbon windows and glazed pillars, gracious and generous visibility ensures safety and ease of parking, passing, and lane-changing. The compact design makes this vehicle great for buzzing city streets, while the spacious interior ensures stable comfort. Your choice of three engines each offer economic and environmentally friendly fuel consumption and low emissions without compromising performance. Safety is guaranteed, with Euro NCAP awarding the 500L a 5* rating. Cutting-edge connectivity and abundant infotainment options keep you on top of social aspects without ever taking your hands off the wheel.
500L Features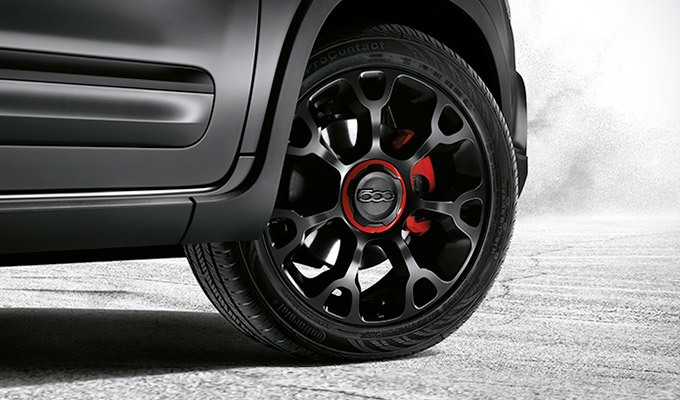 Charming creativity
The Fiat 500L still exudes that unmistakable Fiat Italian flair that we've all come to know and adore, but with a steeper windscreen and two-piece knuckle to improve visibility and increase passenger comfort.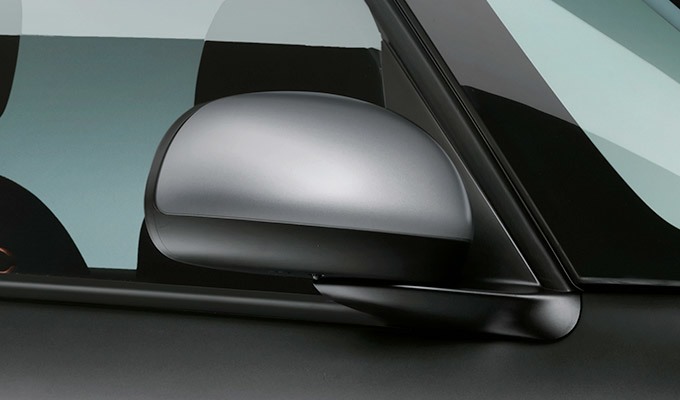 Smooth and versatile
Along with generous spaciousness, the 500L features a seating system that can be flipped, folded, and moved into eight different ways for a whopping total of more than 1,500 possible combinations.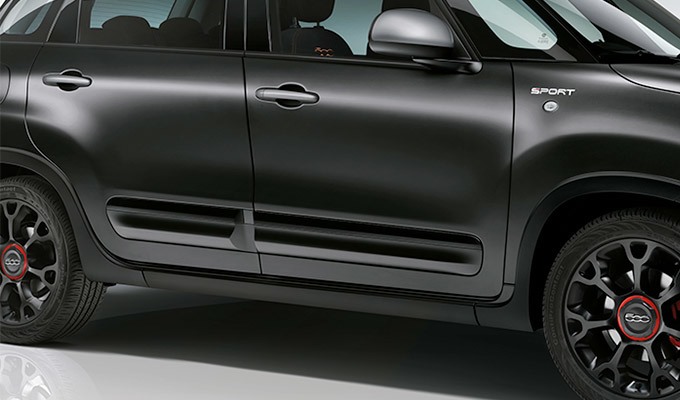 Simple practicality
The boot has 400-litres of standing capacity, which extends to 1310-litres when you fold the back seats. 22 containment compartments through the cabin ensure you have everything you need.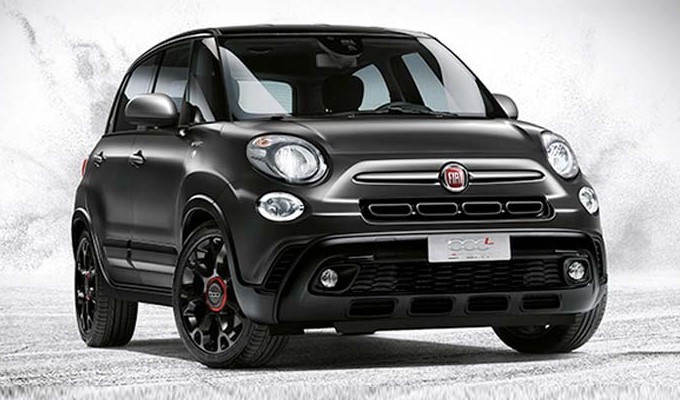 A Choice of Economic Engines
Out of your choice of three different engines, each one guarantees fuel economy and get-up-and-go, especially when used in conjuction with your 500L infotainment system.
Interior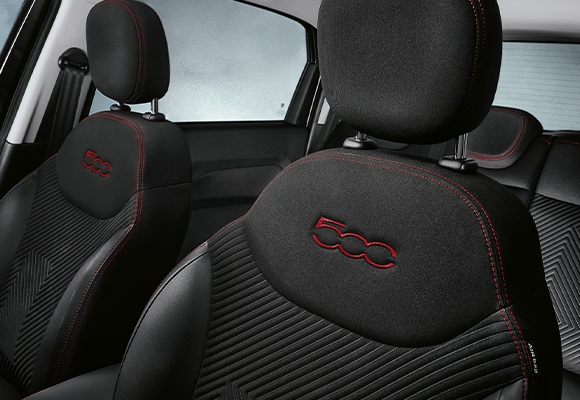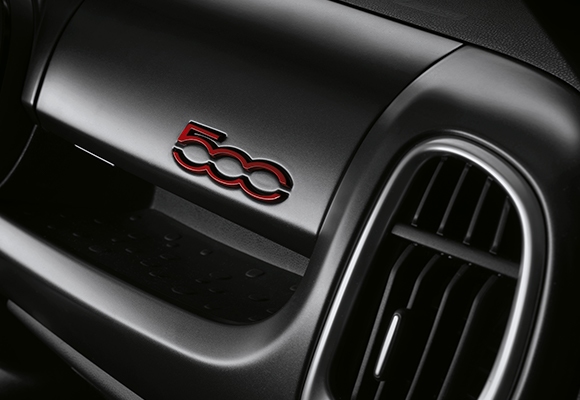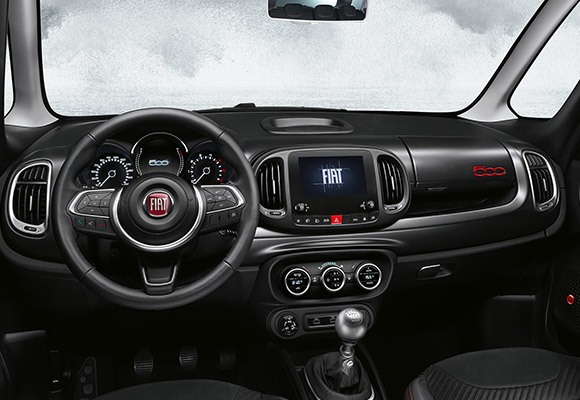 More Features
Exceptional Connectivity
With the 500L's 5-inch colour touchscreen featuring Bluetooth connectivity and voice-control, you never have to take your eyes off the road or your hands off the wheel to manage socialization.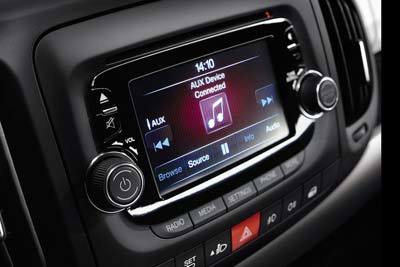 The latest Infotainment
For Fuel Economy And Efficiency, The Fiat 500L's Eco System Will Store Your Distinct Driving Style So The Application Can Hand-deliver Valuable Driving Tips To Personally Assist You.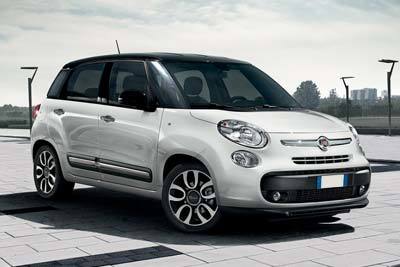 Class-topping Safety
Six airbags, ABS with Brake Assist System and an innovative and sophisticated ESC (Electronic Stability Control) ensure the safety of all the 500L's occupants. Enjoy complete peace of mind.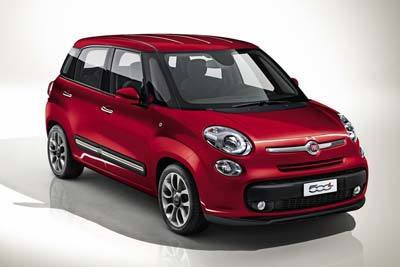 Personalisation
In addition to your choice of engine, you can choose among nine different body colours, three roof colours, and three wheel colours, making the Fiat 500L a vehicle that shows off your personality perfectly.
500L Colours
PBellagio Blue
Bossa Nova White
Darkwave Black
Pasodoble Red
Bellagio Blue with Black Roof
Bellagio Blue with White Roof
Bossa Nova with Black Roof
Bossa Nova with Matt Black Roof
Darkwave Black With Matt Black Roof
Darkwave Black With White Roof
Pasodoble Red with Black Roof
Pasodoble Red with Matt Black Roof
Pasodoble Red with White Roof
Heavy Metal Grey with Black Roof
Heavy Metal Grey with Matt Black Roof
Heavy Metal Grey with White Roof
Minimal Grey with Black Roof
Minimal Grey with Matt Black Roof
Venezia Blue with White Roof
Venezia Blue with Black Roof
Venezia Blue with Matt Black Roof
Heavy Metal Grey
Minimal Grey
Venezia Blue
For the trim levels, colours and more detailed info, download or order the 500L brochure
Get a Brochure
Why not take a test drive in the 500L? It is the best way to know if the car is for you.
Book a Test Drive
If you need to know more info about the Fiat 500L - Just ask, we are here to help.
Ask a Question
View all of our 500L offers by clicking the link below.
Latest Offers

The Fiat Panda is an upbeat city car with a practical interior and an economical range of petrol and diesel engines
CarBuyer

Stylish, classy cabin, lots of practical touches, and a good safety kit
What Car?

It's very good in town, that's for sure. The steering is calm and easy, perfect for city schlepping. There's even a dead patch around the straight ahead, so you don't have to keep making tiny corrections
Top Gear
New Fiat 500L
Call us Today
01239 612025
Contact us